The trenchcoated titmouse with a pretentious parchment, who also happens to be a HOLYFUCK! hero, has again waged a war of whines about the terrifying lack of massive centralized power aimed toward forcing all American citizens to agree with His Pretentious Plans for Progress.
Truly, more Progressive than ANY other bird.
You definitely know, you ignoramus with dragging knuckles and prognathic prominence, that we've seen this kind of shitbird nonsense being spewed before, gleefully and pridefully, haughtily and condescendingly, by the professional liar who thinks he's Buckaroo Banzai
**
, and it would seem that in the run-up to his pathetically consumerist 8 Days of Toys and Dreydels holiday season, Perfessir Borey Cob'n imagines himself resting on a top tier of social repute, hanging out with Pro Liar Crackie, and shootin' the shiznit about how to rectify the despicable problem of Reactionaries being allowed to live, think, communicate and gather within the confines of the American lefty-fascist enterprise.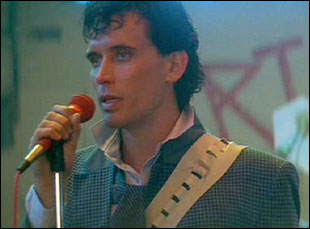 You are not welcome at my blog, Oxtrot.
Apparently it's all the fault of Teap Artiers, Glenn Beck, Paul Ryan and Sarah Palin.
But maybe we should ask the palabric onanist, Gay-Vid Dreibar?
Hey, Gay-Vid: What would a tinfoil Marxist do?
*************
Chumps can't hang with the Trenchcoated Titmouse.
To prove I'm a weighty commenter who types out gravitas-laden missives, I am going to list all the Cool Hip Artists and Powerfully Prodigious Pundits I admire. This will HOLYFUCK! prove that I'm much more
popular
than you, you, you, you, you, you, and you over there too.
Because, Yahweh knows, it's all about popularity, since I never got past the social and individual identity hangups I developed in 10th grade.
**************
By listing everything I don't like culturally, and blaming it all on crackers, christers, rednecks, conservatives, reactionaries, misogynists, homophobes, racists and Evil Rethuglicans Who Are Corporate, I can escape all personal fault.
By "jokingly" referring to
my complicity
, I can make it appear that I am aware of my own personal role in most of my hated landscape obstructions and aesthetic insults, and imply that it's "ironic" that I talk about
my complicity
while ignoring my contributions to the problems that give me agita and GI distress.
By the way -- did you know that I am a helicopter parent who refuses to let his daughter grow up and gain independence?
It's okay. I pretend that WFMU consults me for playlists and considers me a "friend." That kind of hipster cred just won't wash out, bro.
_______________________
**
Yes indeed, the one and only Crackie Blowjob, global dictator and mandate-issuer who requires your compliance with his Glossy Karl's Valhalla fantasies.